This shop has been compensated by Collective Bias, Inc. and its advertiser. All opinions are mine alone. #RegisteringForBaby #CollectiveBias
Now that I have had 2 babies, and am pregnant with my 3rd, I feel like I have a pretty good handle on how to prepare for a baby's arrival. There are a few things I like to do beforehand, and a lot that can wait until after. Babies really don't need a lot at the beginning, so it's not totally necessary to have all the things ready, but there are some things, and today I wanted to share with you a few of my favorite ways to prepare for baby's arrival, so that any expecting moms out there, especially first-timers, will hopefully be able to feel a little less stressed and a little more prepared.
Buy necessities ahead of time.
(Bonus: shop my favorite products straight from the photo below!)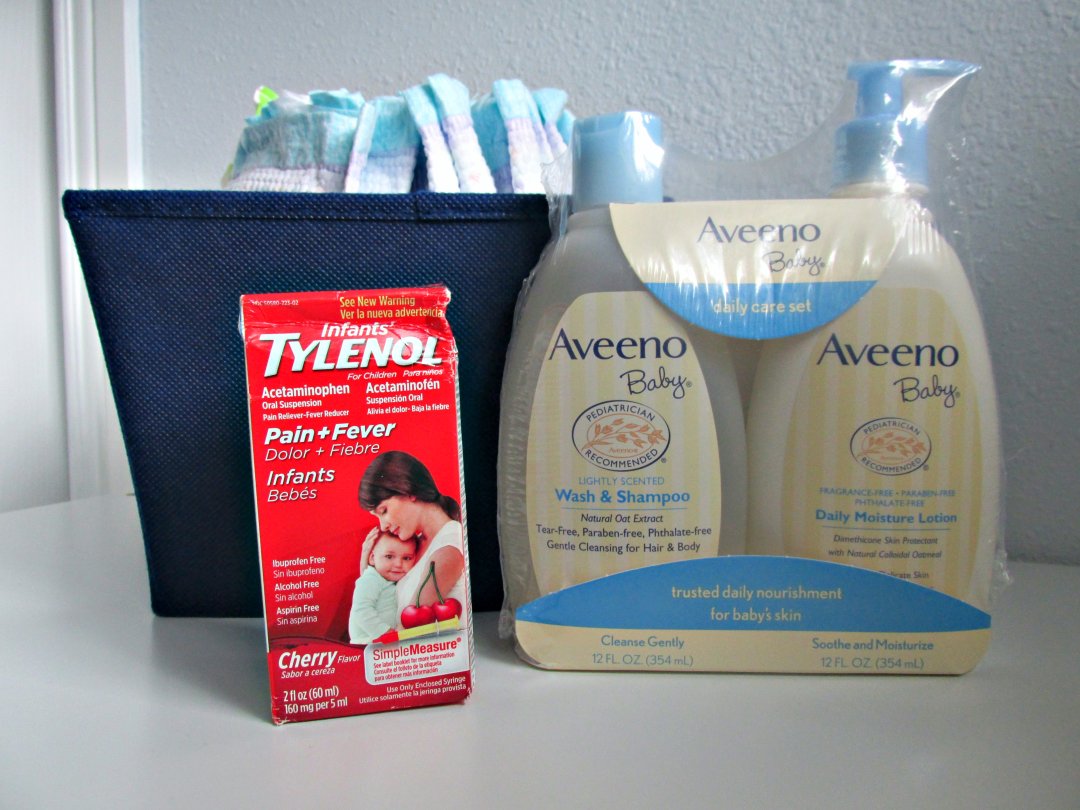 One thing I think is so important is buying certain things ahead of time. Baby wash, baby lotion, TYLENOL®, etc. are all things you want to have on hand. You might get some of these things at baby showers, you might not, but they are things you'll want and not want to have to run to the store at midnight to go grab.  Target makes this super simple because you can buy either in store or online. Infant TYLENOL® is perfect to help your little one when they have a fever or are in pain (be sure to take only as directed!). And Aveeno® is such a great brand. I love their products for myself, and so their Baby Daily Moisture Regimen Pack is perfect of babes of my own.
The subtotal is off because there were other things in my cart — oops. Can't stop, won't stop with the Target shopping!
Wash clothes & organize.
I love to organize all the things, so this is one of my favorite things to do when pregnant! Once you receive cute and tiny baby clothes, run them through a wash cycle and then get to organizing. In general I store most clothing items in totes or drawers, and only hang up dresses and/or sweaters. This makes for easy laundry doing aka less folding! I'm all about that.
Create a baby registry.
Especially with a first baby you'll want to create a baby registry for all those wonderful well-wishes who want to help celebrate your bundle of joy with you! This time around, I created a registry online at Target.com. It's true it's our third, and we're not in need of much, but there are always a few people who ask what you need, so I wanted to make it easy on myself and them, and have a list put together for anyone who does ask. Creating a registry online was so easy. Simply click this link, and then you'll follow the prompts and fill out your information to get started.
You can take a quick tour, and then the fun begins — choosing the items you need and want! I could write a whole post on what you could choose to place on your registry, but for now, just know it's so easy to add any items you decide on. There's even a Target registry app that you can download, so you can add things easily on the go. You can also visit your closest Target to pick up your Welcome kit at Guest Services, full of coupons and samples! My favorite part is that you get emailed a 15% off discount about 8 weeks before your due date that you can use on any remaining registry items. Win!
Join a pregnancy support group.
This can be really helpful for first time moms. Whether you frequent a chat board on a pregnancy website, or join a birth month group on Facebook, being able to ask questions and have someone to figure out pregnancy with is so nice. You don't need to go through pregnancy alone! So find your tribe 🙂
Bonus: Help prepare older siblings for baby.
If you have an older child, you might want to do something to help them prepare for a new baby. There are a lot of great ideas out there, but a couple we've done (and remember, our kids are fairly close together so these might not be as helpful if you have larger gaps) are to buy a picture book about bringing a new baby home (and/or about waiting for a new baby to come) and different changes that surround that event, buying a baby doll for them to "practice" on, and just constantly talking about the new baby and how exciting it's going to be.
I hope these tips helped you out! Good luck, momma! You'll do great!